Austin Synth Music is a Lot More Than 'Stranger Things'
A recent re-scoring of 1965 Japanese horror film 'Kwaidan' showcased a range of talented local knob-twisters.
Photo by Melissa Cha
The Stranger Things theme—composed by Michael Stein and Kyle Dixon of synth quartet S U R V I V E—may have put the Austin, TX electronic scene on the map. But this year at SXSW, it was another cinematic horror experience that brought everyone together: the re-scoring of 1965 Japanese horror film Kwaidan presented by local record label Holodeck Records.

Kwaidan is an award-winning anthology of four old folk tales where ghosts creep into traditional Japanese life; the title translates to "strange stories." The haunting cinematography and four chapter divisions make it ripe for a live re-score, which was tasked primarily to some of Austin's most prolific stalwart synth geeks, including darkwave trio Troller, solo synth pop producer Missions, and drone soundscaper Michael C. Sharp. The line-up represented three different threads of the electronic music currently being made in Austin, which is just the tip of an iceberg that extends far deeper than a single Netflix score.
There's much to be said about the oversaturation of SXSW, but the Kwaidan event—held inside the 49-seat black box Hideout Theater on Congress Ave., a few blocks from the fray of Red River—stood out as a more intimate experience, one made for and by locals. A command center piled high with vintage gear rose up from each corner of the stage, and a little past seven, the lights dimmed for chapter one: "The Black Hair."
"The Black Hair" tells the story of a swordsman who leaves his loyal wife to marry up for wealth, only to return to her years later filled with regret. Troller's sinister darkwave set the backdrop for the marital melodrama, with the trio of Adam Jones, Amber Star-Goers, and Justin Star-Goers proffering chilling synth backdrops, dissonant guitar tones, and shrill vocals reminiscent of a shoegaze Goblin. Each character had its own recurring musical theme, with more rhythmic sequenced interludes accompanying action scenes. At the climax, the swordsman's ex-wife died in his arms; as the corpse's hair came to life to take revenge for the husband's fickle behavior, Amber Star-Goers' high-pitched howl folded into white noise.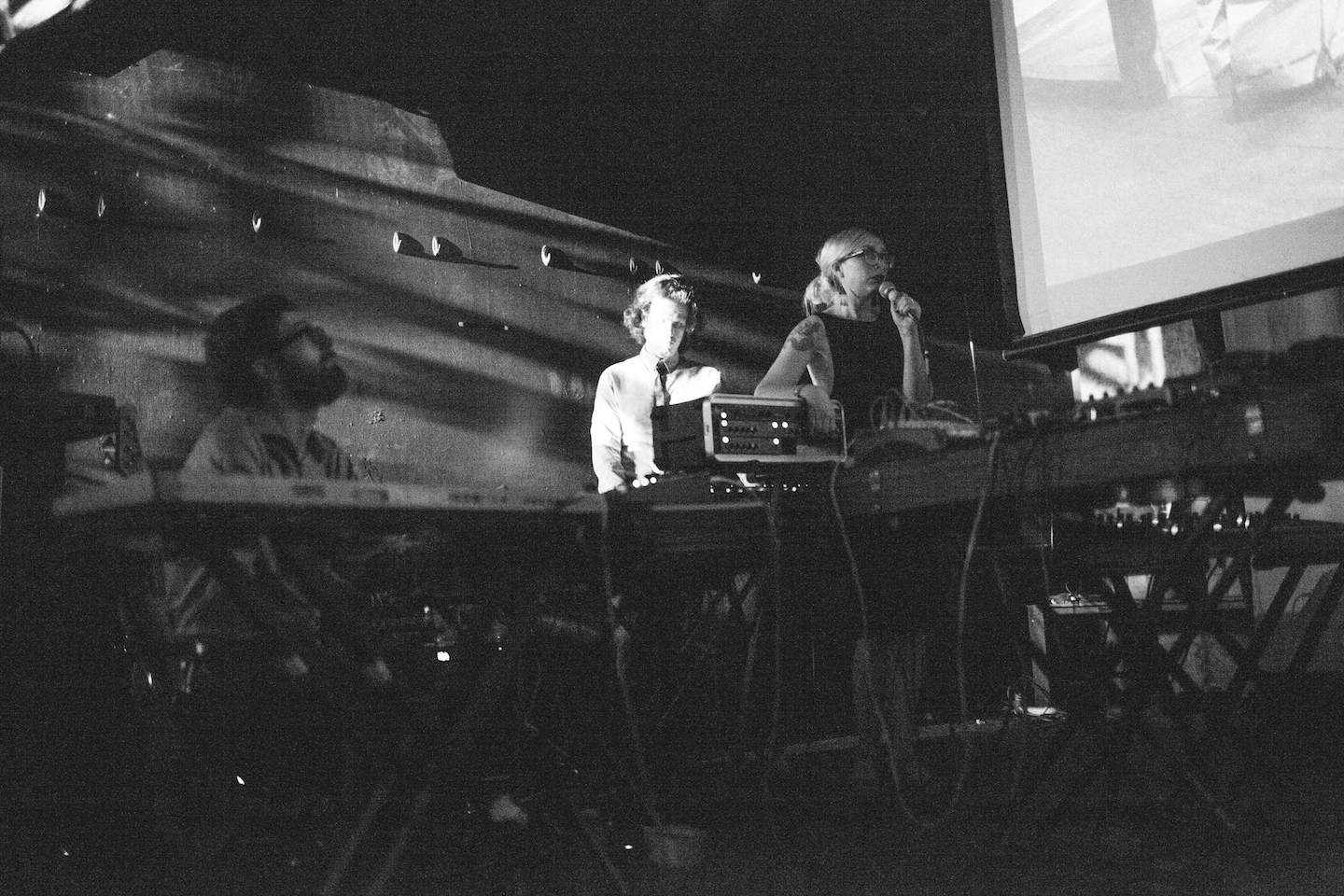 Troller's recorded output appears on Holodeck Records, a label founded in 2012 by Jones (also a member of S U R V I V E, Thousand Foot Whale Claw, and more). It's always been a family affair, with Jones spearheading the effort and a revolving cast of co-founders and collaborators assisting with operations. Currently his Troller bandmates help with management duties; Amber acts as VP & CFO, and Justin handles art.

Holodeck exports the sound of the city internationally, championing a spectrum of styles rooted in the use of synthesizers, drum machines, and dark moods. The John Carpenter-indebted instrumental work of S U R V I V E is their best-seller, but their catalog spans a wide array of genres: dueling synth/guitar drones (Sungod, Thousand Foot Whale Claw), looping sound collages (Silent Land Time Machine), dark synth pop (Flatliner), hardwave techno (Dylan Cameron), and harmoniously beautiful modular work from audio/visual duo Curved Light. It also supports plenty of non-Texans—like Montreal experimentalist Marie Davidson—but the primary focus is to provide a publishing outlet for the Austin DIY community.
"More or less, the artists on this label are linked personally, whether they were friends before they were artists, or friends we've made because they're artists," says Amber.
Electronic music isn't the first genre people associate with Austin, TX, but there's been an underground community growing for decades. In the late aughts, bands like zolo revivalists The Zom Zoms, darkwave trio Medio Mutante (who later evolved into Holodeck associates Ssleeperhold and BOAN), noise antagonists Cry Blood Apache, and electronic supergroup Low Red Center inspired today's musicians by bringing synthesizers to the forefront.
"The old establishment was that you had a no wave band or weird art punk band that maybe had a synth player, and you messed around with circuit bent drum machines or things like that," says Jones.
Electronic music production in the city swelled after the 2011 opening of Switched On, a vintage gear showroom and repair shop that's employed many of the scene's most active musicians and served as an invaluable resource for gaining hands-on experience with otherwise inaccessible instruments.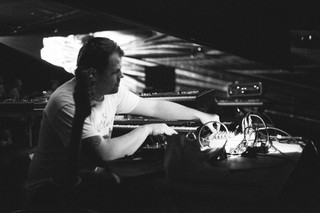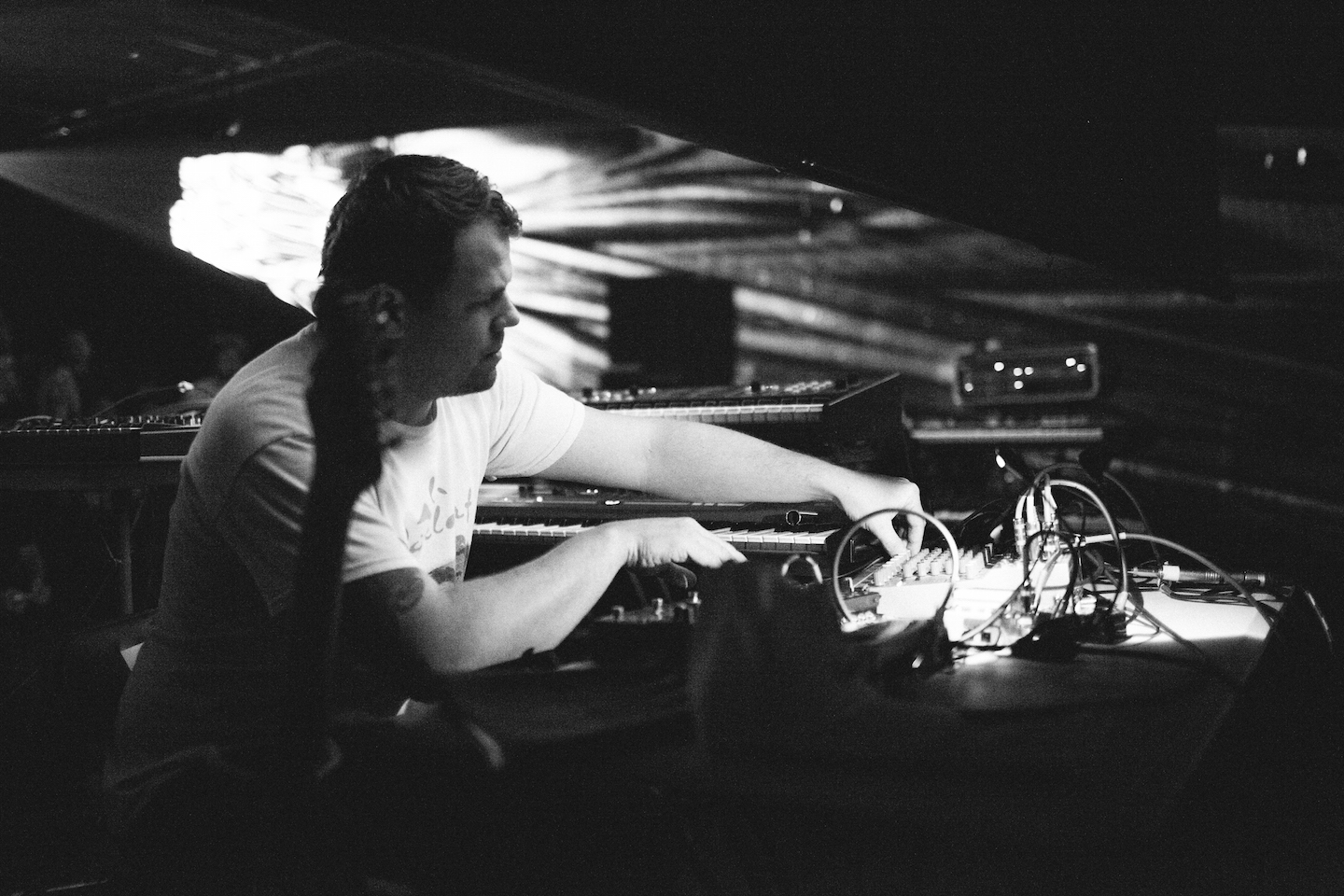 In 2012, The FADER published a scene piece highlighting local acts like Pure X, Sleep Over, and Silent Diane, as well as S U R V I V E, who had just released their first single LLR002. With the exception of the more shoegazey Pure X, synthesizers took center stage, with the music seeming to embody the idyllic Austin slacker lifestyle—loose, reverb-soaked, and melancholy, with a hint of schwag in the air. With the exception of S U R V I V E, those bands have since disbanded. In their wake, much of the electronic music coming out of Austin has become darker and more industrial in sound. Many of the original players from the first wave of electronic artists are still around; they just make music for warehouses and cramped bedrooms rather than swimming holes.

Songwriter and synth collector Josh Mills is a holdover from those early days and one of the scene's central players. He used to perform in Sleep Over, and now plays brooding Depeche Mode-esque songs solo as Missions, as well as with French electro-pop singer Lou Rebecca and as half of the drugged-out dance duo Silk Rodeo. Mills doesn't have a record on Holodeck, and so far has only one official release: the triangle-shaped 7-inch Darrk/Blakk, which came out in 2013 on Pau Wau Records. Still, he's been gigging multiple times a month for nearly a decade. That's a common thread for local electronic musicians in Austin: jam endlessly, gig relentlessly, record sporadically, wait patiently.
Mills' re-scoring of the second chapter of Kwaidan, "The Woman in the Snow," showcases his meticulously sequenced sound. A deep collection of drum machines—ranging from classic 808s and 909s, to newer sounds created by Eurorack modules from TipTop Audio—matches the rhythm of a Japanese man chopping wood under an ominous blood red sun, blissfully unaware that he'd soon be visited by a murderous ghost. Moody melodies and head-nodding synth stabs punctuate the action scenes, offering a flicker of some of the music coming out of city's vibrant lo-fi techno scene.
Although DJs aren't a huge part of Holodeck's DNA, dance music recently crossed over into the label's output, with the modular techno LP Infinite Floor by Dylan Cameron. It also fuels the after parties at DIY venues like Tamale House, a Mexican restaurant on East 6th that turns into a nightclub after dark thanks to the booking of Robert Valera (also a prolific darkwave musician). Friends of Holodeck typically helm turntables or CDJs alongside live hardware sets from the likes of Cameron or Bill Converse, whose acid-tinged Meditations/Industry garnered international acclaim when it came out on Dark Entries in 2016.
Tamale House also hosts punk shows, a genre crossover exemplified by the final Austin musician on the Kwaidan bill, Michael C. Sharp. Sharp plays in punk band The Impalers and drone maximalists Sungod (with two LPs on Holodeck), but his solo style is more indebted to German composers like Manuel Göttsching than to 80s horror scores, which he jokingly calls "Carpenter-core."
"I try to do more polyphonic synth stuff," says Sharp. "As I started playing out live, I noticed that more people used hard four-on-the floor sequences, so [my tracks] ended up being more drifty, the kind of the thing that you listen to in headphones."
His contribution to the Kwaidan score was the chapter "In A Cup of Tea," in which a man sees a face in a cup of tea, drinks it before bed, and is awoken by a trio of ghost warriors. Sharp soundtracked the on-screen soul-swallowing with phasing drones, pounding toms fed through gratuitous delay, and a bed of feedback. It's representative of the washier side of the Holodeck spectrum, in which acts like solo sound collagers like JU4N and Silent Land Time Machine loop synths, drum machines, drones, and samples to build polyphonic odysseys that sound as rich in headphones as they do over a loud PA.
When the lights rise after three full hours of Kwaidan (including a chapter performed by non-Austinites Antoni Maiovvi and Timothy Fife), there's a palpable mix of awe and restlessness in the crowd. This wasn't something that would be recreated the following day on the rooftop of Whole Foods or in a crowded club; it was one of those rare one night only SXSW experiences that 49 people will brag about for the rest of the week. No matter what else they see that night, though, it probably won't make for as strange a story as seeing a bunch of Texans re-score a Japanese horror film.